The pandemic has impacted everyone differently. Prioritizing the types of benefits that reduce the impact of chronic conditions and investing in targeted wellness programs have proven return on investment.
Dr. Elaine Chin, explains the role of organizations in reducing COVID-19-related health issues in the Plans & Trusts September/October 2022 issue.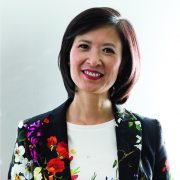 Dr. Elaine Chin
ELAINE CHIN, M.D., M.B.A. FOUNDER, CHIEF MEDICAL OFFICER North American trailblazer in Precision Medicine. Founder of Executive Health Centre, a Medical Wellness and Anti-Aging Clinic. Medical expert on CitylineTV and in Good Housekeeping Magazine's GH Institute.