February 27 to March 2, 2022
Speaker: Elaine Chin, M.D., M.B.A.
Opening Keynote—Managing the Pandemic's Next Wave Into a Soft Endemic Landing
The next wave could be quelled if we reduce COVID-19 cases and slow the development of new variants of concern through effective vaccination and follow-up booster policies. Simultaneously, as we recover from the microtraumas of the pandemic, we must encourage "new normal" workstyles with additional interactive tools and virtual coaching to support physical resiliency and mental well-being. This session will discuss actions we can take to move forward to a post-pandemic future.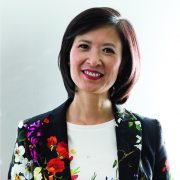 Dr. Elaine Chin
ELAINE CHIN, M.D., M.B.A. FOUNDER, CHIEF MEDICAL OFFICER North American trailblazer in Precision Medicine. Founder of Executive Health Centre, a Medical Wellness and Anti-Aging Clinic. Medical expert on CitylineTV and in Good Housekeeping Magazine's GH Institute.