"Elaine launched the Temerty Faculty of Medicine's fundraising response to the COVID-19 pandemic. Her efforts inspired new donors across Canada and raised more than $170,000 in just one week from almost 100 donors."​
– Arbor Award Committee
Dear Elaine,
I'm delighted to congratulate you on your 2020 Arbor Award-the highest honour the University of Toronto bestows on its volunteers. Unfortunately, we are not able to celebrate together. However, the COVID-19 crisis has lent added significance to this year's awards by reminding us of how our collective well-being and success depend upon our support for one another. As an Arbor Award recipient, you are a shining example of this principle and a model for the U of T community during a very difficult time.
I hope you will take a moment to view this short video, which extends my appreciation to you and the many volunteers that contribute to our research and teaching missions.
As an expression of our gratitude, you will also receive your Arbor Award certificate and pin, which we hope you will wear with pride as a recipient of this prestigious honour. These will be sent to you in the coming weeks. Thank you again for your generous support.
Sincerely,
Meric Gertler
President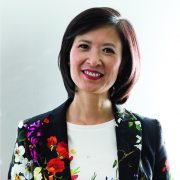 Dr. Elaine Chin
ELAINE CHIN, M.D., M.B.A. FOUNDER, CHIEF MEDICAL OFFICER North American trailblazer in Precision Medicine. Founder of Executive Health Centre, a Medical Wellness and Anti-Aging Clinic. Medical expert on CitylineTV and in Good Housekeeping Magazine's GH Institute.