I'm supporting our frontline healthcare workers in the Greater Toronto Area in partnership with the University of Toronto, Faculty of Medicine.
Learn more about our Masking Together Challenge to support:
Personal Protection Equipment
Place for Residents and Clinical Fellows (trainee doctors) to self-isolate safely
Fund research that renders near-term results to fight Covid-19
Your Triple Impact
Donate Now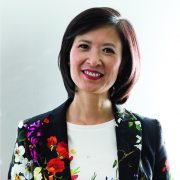 Dr. Elaine Chin
ELAINE CHIN, M.D., M.B.A. FOUNDER, CHIEF MEDICAL OFFICER North American trailblazer in Precision Medicine. Founder of Executive Health Centre, a Medical Wellness and Anti-Aging Clinic. Medical expert on CitylineTV and in Good Housekeeping Magazine's GH Institute.